Participate in curbside pickup?
Instructions for participating in the library's curbside pickup service.
How to participate in curbside pickup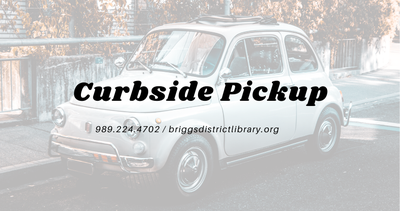 Overview
Patrons will be able to get library materials using our curbside pickup service beginning Monday, June 8.  Patrons
will not

be allowed inside the building to select materials at this time.


Procedure
1.  Place a hold on library materials. There are 3 was to place a hold: 
     A. Search our online catalog at briggs.agverso.com
     B. Call 989-224-4702 -- select option 1 to leave a message
     C. Send an email to briggscurbsidepickup@gmail.com

2.  Library staff will contact you to set up a pickup time when your materials are available

3.  When you arrive at the library, use one of the designated parking spaces and call 989-224-4702

4.  Remain in your vehicle. Library staff will bring out your materials and place them in your vehicle. If you have items to return, staff will collect them at this time


Hours
Pickup times will be scheduled during the following hours:

Monday:         12:00 - 5:00
Tuesday:         2:00 - 7:00
Wednesday:   10:00 - 3:00
Thursday:        2:00 - 7:00
Friday:            10:00 - 3:00
Saturday:        10:00 - 1:00


Resources
(Book lists and read-a-like recommendations for fiction and nonfiction)