1000 Books Before Kindergarten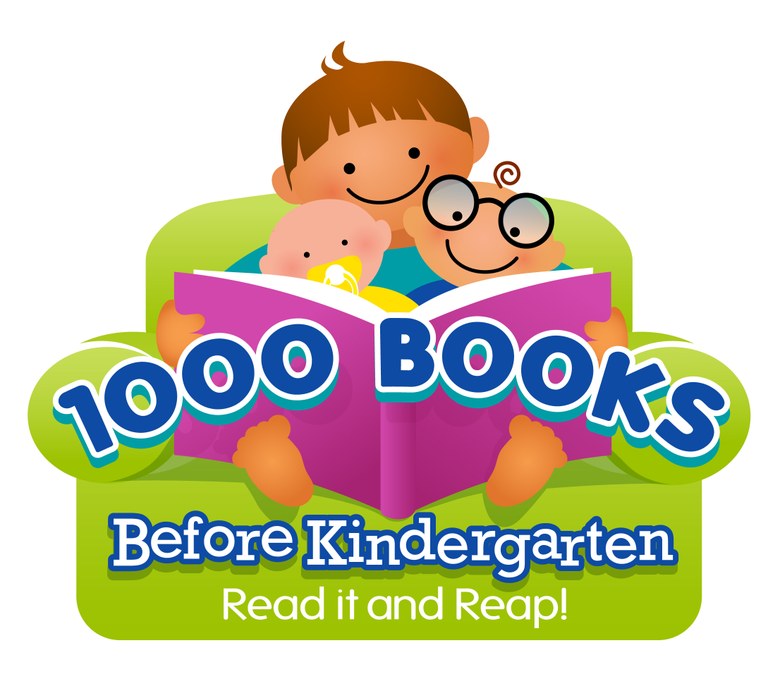 Briggs District Library is challenging parents and caregivers to read 1000 books to their children before they enter kindergarten.
Any type of book counts.  The length or subject does not matter, as long as the child enjoys it.  You may count favorite books each time they are read.
The goal is to read, read, read!

Who Can Participate? Children ages birth to five may participate with the help of their parents or caregivers.  Children participating in this program must not yet be attending kindergarten.

Getting Started: Participants may come to the library or register online to sign-up for this free program.  Registered children will receive a packet containing a new book, a bookmark, a pencil, and a drawstring bag.  They will also receive the first reading log to start tracking their books.  If participants do not want to use the paper log to track their books, they may download a reading log app on their smartphone (see below for details). Those who register online can set up a curbside pickup or drop in during our open hours to collect their child's packet.

Track Your Reading: Each time you read a book with your child make sure to record it on the printed reading log or app.  Books that children read at daycare, pre-school, or with grandparents may also be recorded.

Show Us Your Reading Log: Each time that you and your child reach a reading milestone (see below for details), bring your reading log into the library and receive a prize.

Printable Reading Logs:
     Log #1 (Books 1-100)
     Log #2 (Books 101-200)
     Log #3 (Books 201-300)
     Log #4 (Books 301-400)
     Log #5 (Books 401-500)
     Log #6 (Books 501-600)
     Log #7 (Books 601-700)
     Log #8 (Books 701-800)
     Log #9 (Books 801-900)
     Log #10 (Books 901-1000)

1000 Books Before Kindergarten App:
     Apple app
     Android app
     Also Available on Wandoo Reader
Reading Milestone Rewards:
100 Books - 400 Books = A Milestone button and the child's photo on the Milestone Wall of Fame for each 100 books read

500 Books Read = A 500 Books Milestone button, a new photo on the Milestone Wall of Fame, and a new book

600 Books - 900 Books = A Milestone button and a new photo on the Milestone Wall of Fame for each 100 books read

1000 Books = A 1000 Books Milestone button, a new photo on the Milestone Wall of Fame, and a finger puppet

Reading Milestone Rewards are being sponsored by